Trust us
« I am convinced that the places where we live change the way we live, move and receive »
Julien Haussy
Founder and Director of Espaces Atypiques
Our quality charter
The training and expertise of our staff :
Each of our employees is trained in our Qualiopi-certified training centre: Espaces Atypiques Académie. This guarantees you regulatory, legal and commercial expertise, as well as unfailing support from our staff.
A detailed estimate :
We have developed a specific valuation methodology that we use to define the right price for the market and the uniqueness of your property.
The perfect showcase for your ad :
To do justice to the beauty and unusual nature of your property, we strive to take photos and develop communication and distribution media of impeccable quality.
The sales experience reinvented :
Our commercial approach is entirely based on emotion and puts people at the heart of our decisions.
A multi-stage sale process :
Each stage of the process is discussed with your adviser, so that the best strategy can be defined for selling your property.
Reasoned purchase offers :
We are committed to ensuring that buyers consult all the documents in the file so that we can put together high-quality purchase dossiers.
Buying and selling, in total confidence :
No private signatures are obtained in our branches, but in the notary's office of your choice. Of course, your adviser will be with you every step of the way, right through to handing over the keys.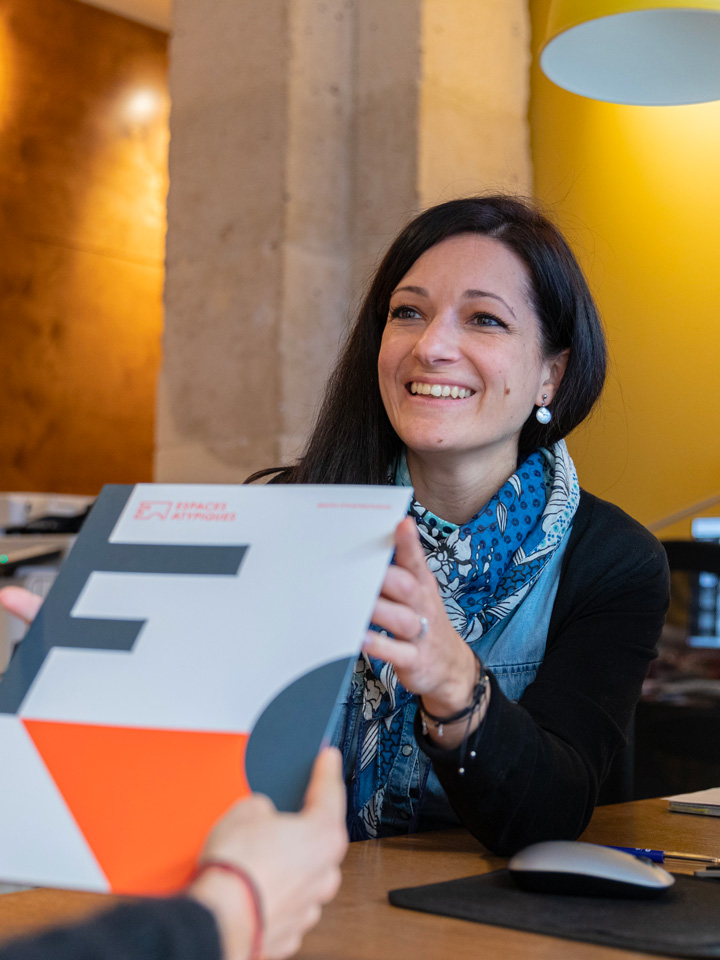 A rapidly expanding network
84
Agencies
in 62 departments
550
collaborators
300 new recruitments planned for 2023
The trust of many property owners
6 500
INSTRUCTIONS
In 2022
47,4 M€
in annual revenue
1,1 Mrd€
Total value of properties sold
A database with
171 000
contacts all over France
A website that attracts a very high number of visitors
46 M
page views
6,4 M hits per year
More than
2000
transactions completed
In 2022
An active presence across all social media
550 000
fans on Facebook, Instagram, LinkedIn, Pinterest and YouTube
An impressive communication budget
4 M€
The guarantees of the exclusive mandate
By placing your trust in Espaces Atypiques and signing an exclusive mandate, you are guaranteed to maximise the opportunities and chances of selling your property more quickly and under the best possible conditions.
You also get the assurance of exclusive and total responsibility for your property, ongoing support throughout the process from a single point of contact, and tailored services.
You benefit from a personalised sales strategy and, thanks to our exclusivity, you are guaranteed consistent, high-quality communications to promote your property to a targeted client base. As the sole point of contact for future buyers, we have the tremendous advantage of being able to handle the entire marketing process. By creating scarcity in your property, we make sure we get the most value out of it.
The icing on the cake is that by signing an exclusive mandate, you become a member of the Espaces Atypiques Club and benefit from offers and services from our hand-picked national and local partners, who will make your life easier at every stage of your project.
Contact us
Le Club
Alongside its purely real estate activities, Espaces Atypiques offers a five-star concierge service.
The Espaces Atypiques Club can help you with all your property projects. Enjoy exclusive advantages and discounts, as well as tailored help to meet your moving and furnishing needs, thanks to our list of top-of-the-range partners throughout France.
The network takes great care of its customers, sharing its valuable contacts in a wide range of fields: Finance and insurance – Event organisation – Building work, architecture and fittings – Design, furniture and decoration – Shopping – Housekeeping and services – Removals – Travel, going out and leisure…
Trusted service providers to make your life easier.
Discover Le Club
Our customers talk about us
Bruno R.
Achat d'une maison à l'esprit rétais aux portes de La Rochelle
Nous tenons à remercier Aurélien et Nina nos deux agents immobiliers pour leur professionnalisme Toujours disponibles, à l'écoute . Grace à leur travail , notre bien a été vendu dans de très bonnes conditions ! Nous recommandons les yeux fermés cette agence .
Arnaud G.
Mandat Exclusif Vente Appartement 5p à METZ
Bonjour, Samuel nous a parfaitement bien guidé dans notre acquisition immobilière. Il a su nous faire confiance dès le début alors que nous étions limités dans notre budget. Il a ensuite plaidé notre cause devant les acquéreurs et a tout fait pour que l'acquisition se fasse dans de bonnes conditions.
Nicole et Phillipe L.
Achat d'une maison à Montpellier
Très bon accueil, contacte professionnel et chaleureux. Les biens proposés ont été très bien ciblés par rapport à mes critères de recherche. Mon interlocuteur a su respecter mon délai de réflexion, sans pression aucune, et a été de très bon conseil. J'ai concrétiser l'achat de ma nouvelle maison, très satisfaite.
Sandrine B.
Achat d'une Longère avec Point de Vue proche d'Angers
Nous sommes très contents des services apportés par Espace Atypique. Notre contact était très professionnel, et très à l'écoute de nos besoins et de notre situation. Approche très proactive du dossier, ce qui est très rassurant et met en confiance dans un projet d'achat immobilier. Je recommande vivement cette agence.
Jean et Gisèle T.
Vente d'une maison à Lyon 5ème
Emeline de l'Agence Espaces Atypiques de Charente-Maritime a fait preuve d'un grand professionnalisme. Elle est réactive, dynamique, à l'écoute, investie. Vous êtes épaulé du début à la fin du projet. Dans un monde où le professionnalisme ne signifie plus grand chose pour beaucoup, c'est très appréciable.
Guillaume B.
Charline a été la pièce maîtresse de la réussite de la vente de notre maison "atypique". Elle a su définir le bon prix de vente (en prenant en compte la spécificité de la maison) et trouver les bons acheteurs. Le suivi tout au long du processus a été impeccable. Je recommande les yeux fermés.