Communication
« We have developed a different identity and communication that breaks the codes of the real estate sector while echoing our values »
Julien Haussy
Founder and Director of Espaces Atypiques
We have developed a distinctively different identity and communication style unlike any other in the property industry to reflect and convey our exceptional, aesthetic and empathetic core values.
Espaces Atypiques has always challenged and transcended the traditional practices of the property market to reinvent the principle and practice of finding exactly the right property. Convinced that our wellbeing begins with the home we live in, our agency network champions a unique value proposition: properties that express who we are, inspire us and give us time to think and be ourselves. To convey this very different perspective and personality developed out of our own unique vision, our focus on people and our appetite for all things beautiful, we have developed a distinctively different identity and communication style unlike any other in the property industry to reflect and convey our exceptional, aesthetic and empathetic core values.
Our strong logo is designed to spark the imagination with a colourful and highly recognisable identity with a striking orange border, while our communication style highlights our innate creative twist.
Our press and poster campaigns reinvent well-known French expressions by giving them new meaning. They spark our imagination: À chacun sa loftstory, Jamais deux sans toit, Avoir un poêle sous la main, Défense de ne pas entrer. But no matter how creative our communication, its central focus is always on presenting property – your property – to maximum advantage.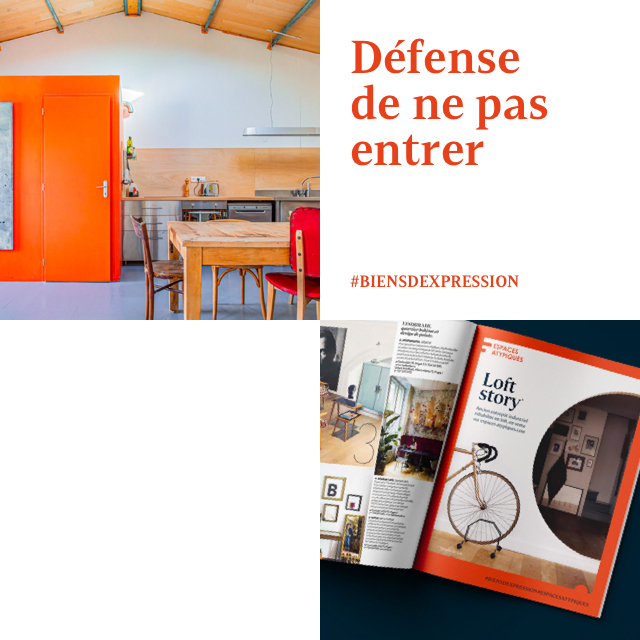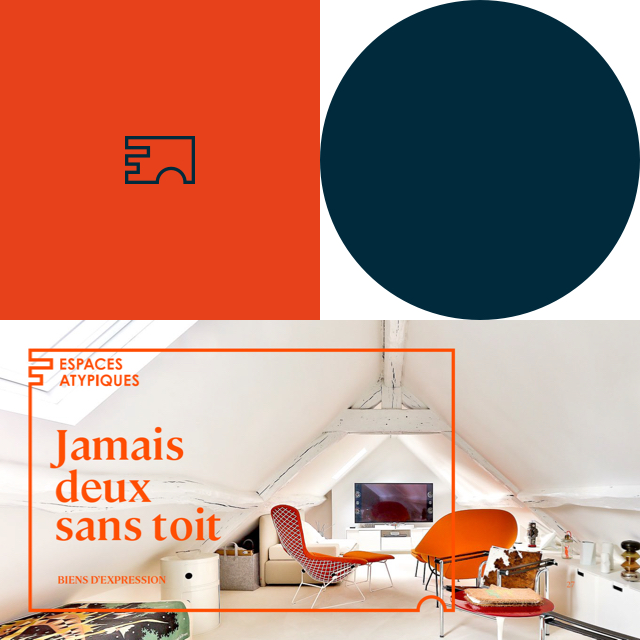 Our media profile
Press
"Espaces Atypiques invests throughout the year in the national and local press through major advertising campaigns with CSP+ affinitary targets. "
As for inspiration, we work with the architecture, decoration, design and lifestyle press with AD Magazine, Elle Déco, Marie-Claire Maison, IDEAT, Art Travel, Architecture à Vivre, Résidences Décoration, Hotel & Lodge, Figaro Magazine, etc.
On the investor side, we focus on the business press, news, investments with Forbes, Private Wealth, Challenges, Les Echos Patrimoine, Le Figaro, Capital, etc.
We also publish our ads on high-end real estate magazines such as Properties le Figaro, Houses and Apartments, Private Surface, Logic Immo…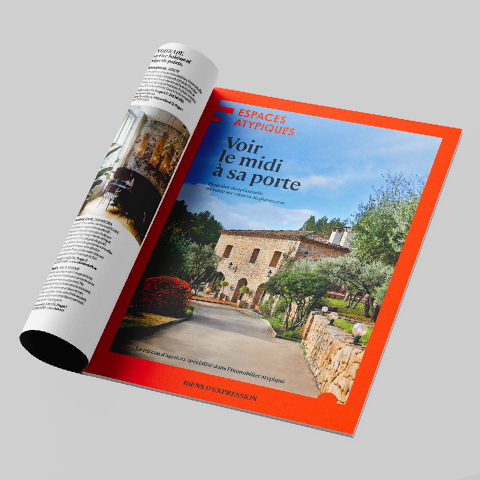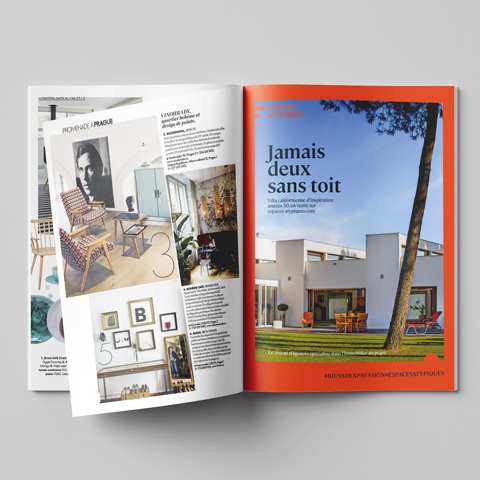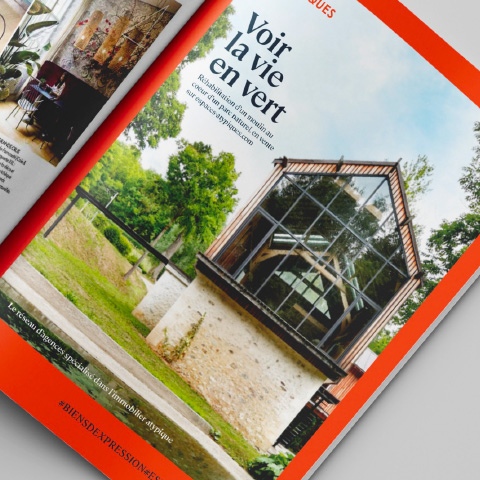 Digital
With 6.4 million unique visitors and 46 million page views per year, the Espaces Atypiques website has been a privileged and powerful tool since its creation.
Our digital actions are reinforced by a natural and paid search strategy, as well as advertising campaigns on high-end websites that ensure our visibility with a targeted clientele. We are present on the main real estate ads sites: Belles Demeures, Se Loger, Propriétés Le Figaro, Résidences Immobilier…
Finally, we have a national file of 171,000 clients, allowing us to communicate effectively and select contacts based on need and budget.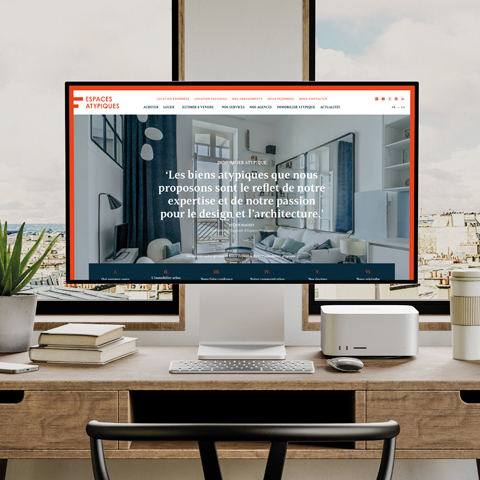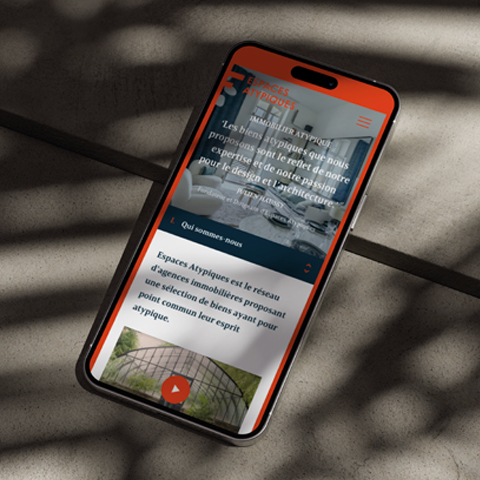 Posters
Our agencies all over France communicate as closely as possible with their customers. Our campaigns speak to urban signage in high-traffic locations by targeting high-end customers to ensure significant local awareness.
We are also present on the big screens of cinemas in many cities of France.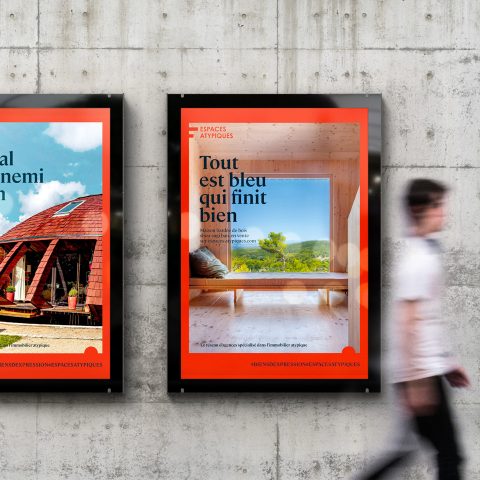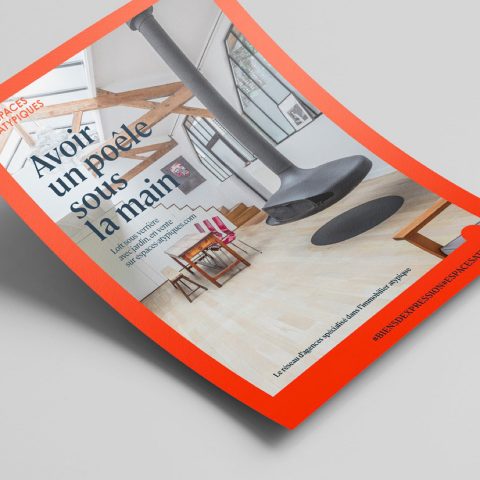 Advertising TV
Television – Cinema
Espaces Atypiques is present on television, especially on BFM TV with its commercial film in our image: shifted.
A brand-name film with a quirky spirit that invites viewers to discover the universe of Espaces Atypiques and also invites them into the dark rooms of many cities in France.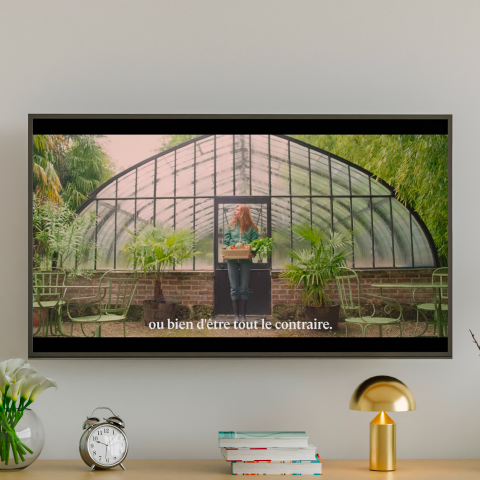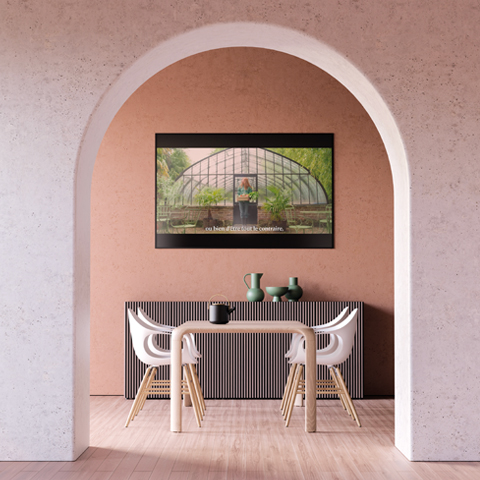 Blog
Trends, inspirations and lifestyle
The diary of a passionate team that sheds light on contemporary and atypical real estate and its latest innovations, initiatives and trends, who shares his passion for architecture and housing in general, but also for people who are fully committed to these new ways of life.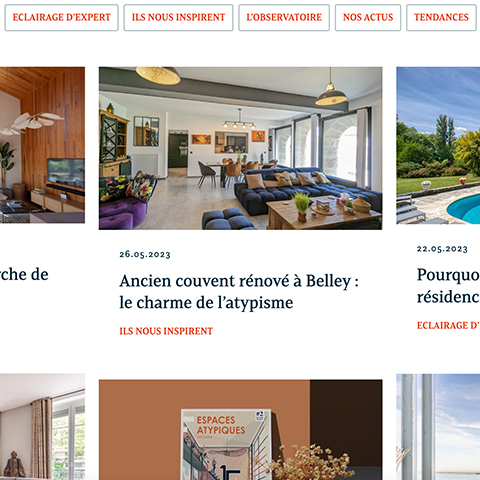 The magazine Espaces Atypiques - Vivre Autrement
The brand magazine
Living Differently, our new magazine Immobilier, Tendances, Lifestyle offers in 176 pages an immersion in the atypical lifestyle.
Distributed to 85,000 copies nationally within the agencies and also distributed in collaboration to subscribers of Le Point magazine, it is published twice a year.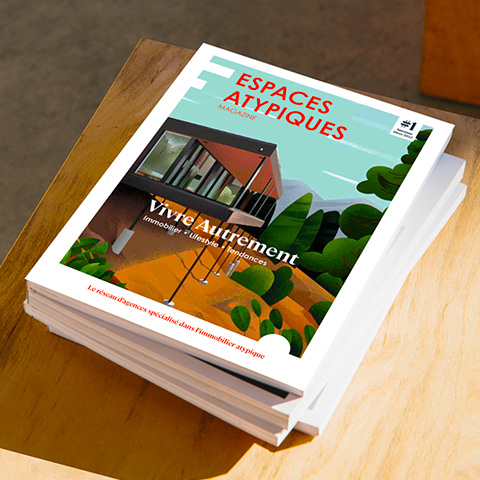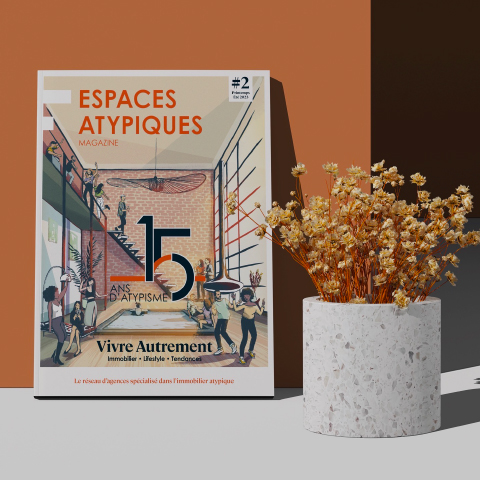 Social media
An impactful social-media strategy and a very large community of over 560,000 followers are developed on our social networks, both nationally and locally : Facebook, Instagram, TikTok, Youtube, Pinterest and Linkedin.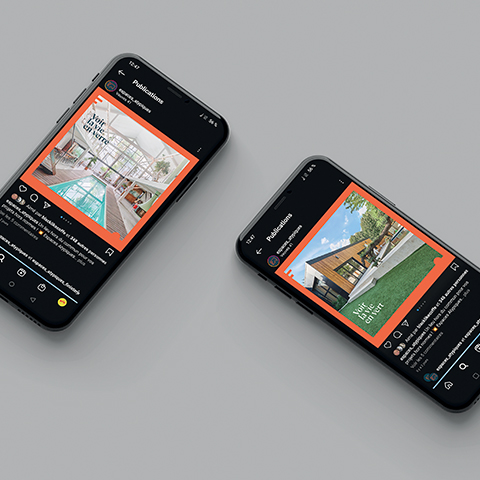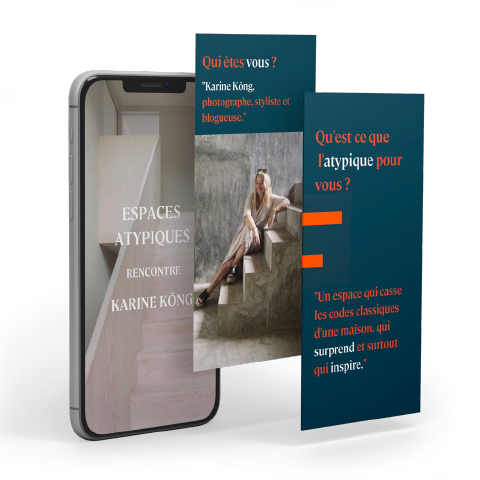 Espaces Atypiques in the press

29.09.2023
Verre, y es-tu ? La nouvelle tendance déco
maisons à vivre

28.09.2023
Maisons Reportage à Paris : Loft familial
Maisons à vivre
An international network
Espaces Atypiques gives your property exceptional international visibility on many of the leading property advertising portals in 120 countries, with an audience of tens of millions of potential buyers.
Properties that won't go unnoticed ! Known and recognised abroad, the Espaces Atypiques network advertises in international publications distributed in a large number of countries: Propriétés Le Figaro, which operates in some fifteen countries (Canada, Portugal, United Arab Emirates, etc.), Résidences immobilier, Artravel and Architectures à vivre.
The Espaces Atypiques website is fully bilingual (French/English), and benefits from excellent international referencing. Regularly consulted by thousands of Internet users abroad, it is the portal of choice for anyone interested in property off the beaten track.
Our media & communication partners